An endless stream of bubbles provides entertainment at Spoutwood Farm's Fairie Festival.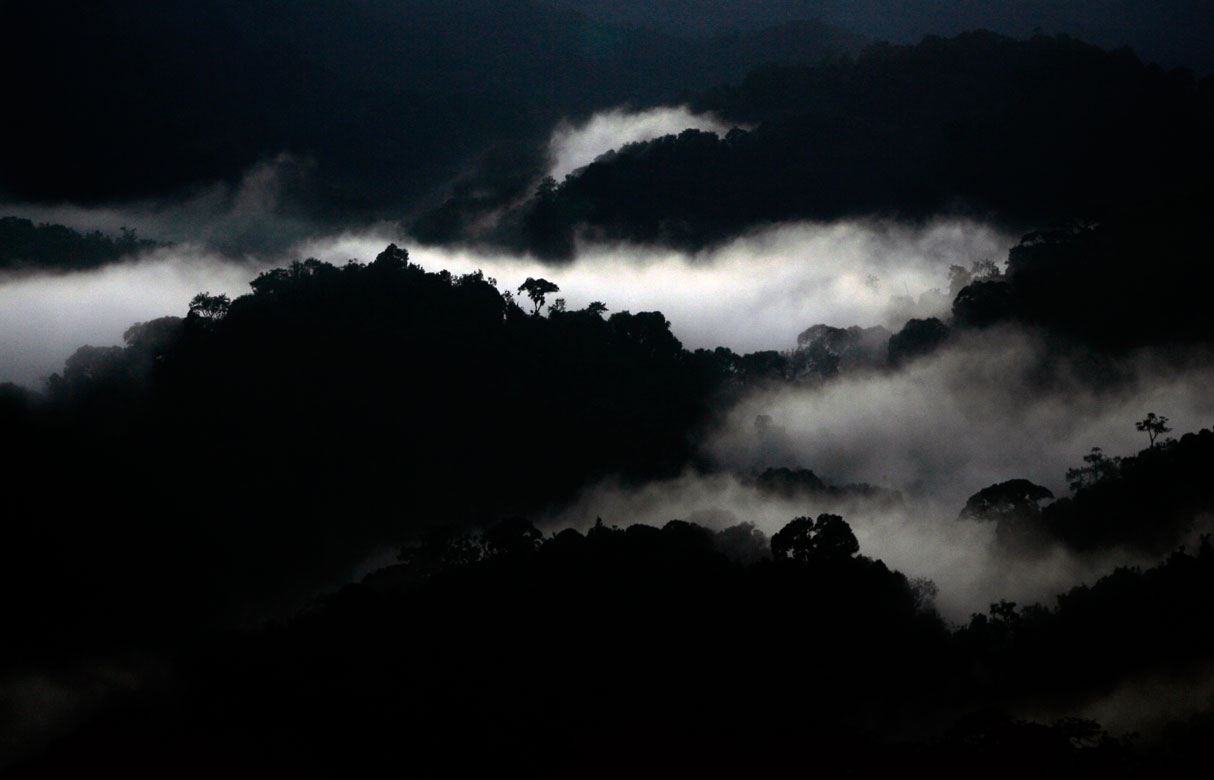 Mist settles over the Nyungwe National Forest in Rwanda.
R.J. Roush highlines across the Fruit Bowl, near Canyonlands National Park and Moab, Utah on Monday, Nov. 20, 2017.
Throwing of the colors at the Holi Festival of Colors at the Krishna Temple in Spanish Fork, Utah.
Roughly 500 students and activists protest the use of child soldiers in Uganda with Invisible Children, walking from the University of Utah to the Gallivan Center in Salt Lake City, Utah.
Lizbeth Ruiz, 9, holds a hampster cage as she, her nieces, Iliana Leo, 5, Gresmile Leo, 4, and her brother, Willy Marcado, 3, wait in the car for the final moving trip from their West Princess Street home to a rowhouse on the 500 block of East Philadelphia Street.
Kyra James, 4, reacts squeamishly to the yellow bellied catfish she just caught by the Benson Marina on Bear River near Logan, Utah, as her mother Mindy James unhooks it behind her.
Jake Butz relaxes at Mystic Hot Springs in Monroe, Utah.
A boy looks into an empty classroom at the Mushaka school during school break in Mushaka, Cyangugu, Rwanda. Thursday, December 9, 2010.
Pam Jepperson is evacuated from her home at the Lodge at Stillwater near the Jordanelle Reservoir as a wildfire grows.
Blake Lingman, of Riverton, gets a kiss from his 3-year-old daughter Maddy before he deploys to Afghanistan at the Utah Air National Guard base in Salt Lake City.
Trevor Knighton, of the Spikers, competes in steer wrestling during the high school rodeo state finals at the Wasatch County Fairgrounds in Heber, Utah.
Two boys spy on the funeral of an elderly woman through banana leaves near the village of Kibirezi in Rwanda.
Gresmile Leo, 4, looks out the bathroom window of her West Princess Street home on her last day in the house.
Photographer Henny Garfunkel poses for a photograph on Main Street in Park City, Utah, before the start of the Sundance Film Festival. Garfunkel has been photographing film festivals since 1993. Kristin Murphy for The New York Times
Maria Botello and Manuel Botello embrace as they and their relatives react to the news that Arnulfo Landeros will be deported the next day, outside of Immigration Court in Salt Lake City.
A woman prays at the Ohel, where the Lubavitcher Rebbe, Rabbi Menachem M. Schneerson, is buried. The grave is covered in torn up letters written to the Rebbe.
Gresmile Leo, 4, gets impatient as her sister, Iliana Leo, 5, takes her turn making a sandwich for dinner out of bread and chili con queso dip in the kitchen of their West Princess Street home. Their uncles, Luis Ruiz, 5, and Willy Marcado, 3, eat their sandwiches as Princess, the pet pit bull sniffs the floor for crumbs.
Willy Anthony, 2, plays with a toy gun behind his home on the 600 block of West Princess Street in York, Penn.
Kaylie Creamer hugs her father Nick Creamer, WO1, before he and other soldiers of Detachment 2, Charlie Company, 5th Battalion, 159th Aviation Regiment of the Utah National Guard, depart for a 12-month deployment to Afghanistan.
Moments
Utah photographer and photojournalist Kristin Murphy captures life's fleeting moments. Her work from Park City, Salt Lake City, Wyoming, Pennsylvania and Rwanda has won national awards and can be found in newspapers and magazines around the world. She is available for editorial, corporate, travel and portrait assignments as well as weddings.